Contact Us
For all enquiries regarding cuisinart products, please contact us on the following:
<!—Customer Care: 0370 2406902–> Email: support@cuisinart.co.uk
Address:
The Conair Group Ltd.
Maplewood
Crockford Lane
Chineham
Basingstoke
RG24 8AL
OUR DEDICATION TO CUSTOMER CARE
Cuisinart, part of The Conair Group Ltd, is a Full Member of The Retail ADR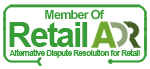 Submit an Enquiry Form
The Conair Group Limited collects your personal data in order to answer your queries and send you pertinent information. Data marked with an asterisk (*) are required for this purpose.
Your personal data will be used exclusively by the Conair Group Limited, companies within the Conair group, and their subcontractors.
Collected data are kept for a maximum period of 3 years from the date of our last contact with you.
In accordance with the General Data Protection Regulation, you have the right to access, rectify, delete, or object to the processing of your data for legitimate purposes. You may exercise your rights by sending an email to support@cuisinart.co.uk or by addressing a letter to Maplewood, Crockford Lane, Chineham, Basingstoke, RG24 8AL, including a photocopy of your ID.
* required