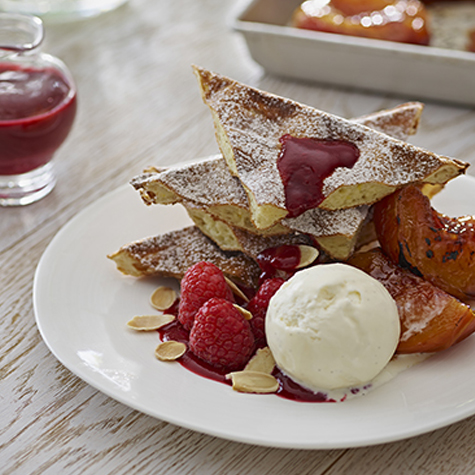 Sweet Waffles with Honey Roast Peaches, Vanilla Ice Cream, Toasted Almonds and Fresh Raspberries
Created by Cellar Society
Ingredients:
Roasted Peaches
2 Yellow Peaches
2 tbsp Honey
1 tbsp Caster Sugar
Waffles
250g Plain Flour
40g Caster Sugar
1tsp Baking Powder
¼ tsp Salt
225ml Milk
1 Large Egg
60g Unsalted Butter
Vegetable oil to lightly grease the waffle plates
Garnish
50ml Raspberry Coulis
20g Toasted Almonds
20 Fresh Raspberries
Vanilla Ice Cream (refer to our recipe 'Homemade Vanilla Ice Cream'
Directions:
Roasted Peaches
Preheat the oven to 220ºC/ 425º F/ Gas Mark 7.
Cut the peaches in half and remove the stones. Place on a baking tray cut side up.
Drizzle the honey over and bake for 5 minutes in the oven.
Sprinkle the sugar on the top and bake for a further 6-8 minutes.
Cool on a wire rack.
Leave the oven on but reduce the temperature to 140ºC/ 275º F/ Gas Mark 1. It will be used to keep the waffles warm later on.
Waffles
Preheat the Waffle Maker and lightly grease the plates with some vegetable oil.
Place the flour, sugar, baking powder and salt into a bowl and combine well. Slowly add the milk and stir well.
Beat the egg until fluffy.
Melt the butter and leave to cool a little so as not to curdle the egg when added to the batter.
Add butter to the batter then fold in the egg.
Leave to rest for 10 to 15 minutes.
Pour 1 ladle (approx. 90ml) of mixture into each grid. Close the lid and cook for approximately 6 minutes.
Open the lid and check the waffles. Once cooked, carefully remove and keep warm by placing on a wire rack in the oven. Repeat with the remaining batter.
Serving
Cut each waffle in four diagonally.
Stack the waffle quarters together, drizzle with raspberry coulis.
Cut the peaches in quarters and place on the plate.
Scoop the ice cream on the side, scatter the raspberries and sprinkle with flaked almonds.