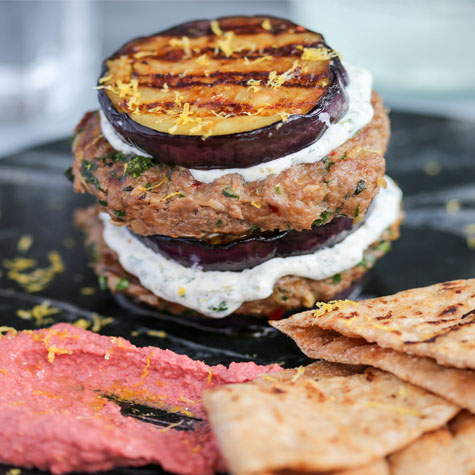 Spiced Lamb & Aubergine Burgers
Recipe Created by Isaac Crew
Ingredients:
500g Lamb Mince 1 Whole Onion – finely chopped
3 Garlic Cloves - crushed
1 Heaped tsp Chilli flakes
1 Heaped tsp Ground Cumin seeds
1 Large handful chopped Parsley
1 Large pinch of sea salt
2 Large aubergines '1inch thick slices'
Juice of 1/2 a Lemon
1 Bunch of fresh mint leaves
300ml Greek Yoghurt
Directions:
Insert the grill plates and turn on the 2 in 1 Grill & Sandwich Maker or the Griddle and Grill to 'High'. Allow to pre-heat whilst you prep the ingredients.
In a bowl, mix together the lamb mince, adding the finely chopped onion, chilli flakes, ground cumin, garlic and parsley. Be sure to bind all the ingredients together well.
Form the lamb into extra-large golf ball sized burgers and leave in the fridge while you prepare the aubergine.
Slice the aubergine into one inch thick slices and season to your liking with olive oil, salt & pepper.
Place the lamb burgers and the aubergine slices onto the grill plates, close the lid and cook for two minutes.
Remove the burgers, resting for a further two minutes while the aubergine continues to grill until golden.
Roughly chop the fresh mint leaves and place in with the yoghurt in a small bowl. Mix until you achieve a paste consistency and squeeze the juice of half a lemon for extra zesty flavour.
To serve, build up the burgers to your liking and dollop the minted yogurt on top or on the side for dipping.
Garnish with shop-bought flatbread or hummus.