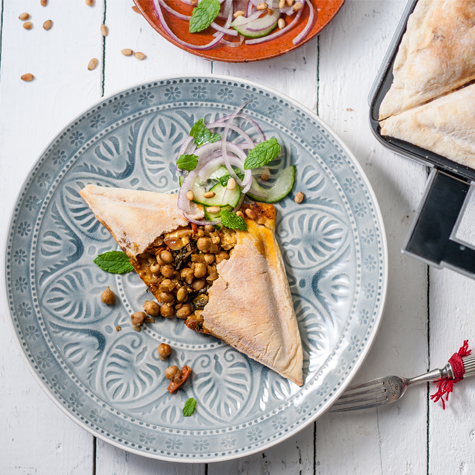 Moroccan Vegetable & Feta Flatbreads
Ingredients:
Flatbread
250g Bread flour
1 tsp Salt
15g Fresh yeast
1 tbsp Olive oil
150ml Warm water
Filling
1 tbsp Olive oil
1 Large clove of garlic, finely chopped
1 Small red onion, finely chopped
2 tsp Ras el hanout spice
250g Cherry plum tomatoes, roughly chopped
150g Chickpeas
100g Baby spinach leaves
100g Feta, crumbled
40g Pine nuts, toasted
Directions:
Place the flour and salt into a bowl. Add a little of the warm water to the fresh yeast to make a paste.
Add the paste, oil and remaining water to the flour & salt then stir well until combined, this will start to create a dough.
Lightly flour your work surface and then knead the dough for around 5 minutes, until smooth. Place the dough in an oiled bowl, cover with cling film and then leave in a warm place for around an hour, or until doubled in size.
For the filling, heat the olive oil in a frying pan and add the garlic and onion. Fry over a medium heat for around 5 minutes and then add the ras el hanout. Continue to fry for another 5 minutes, before adding the tomatoes and chickpeas.
Cook for a further 15 minutes, until the tomatoes have completely broken down, then stir through the spinach leaves until they wilt.
Remove from the heat, season well and leave to cool. Once cool stir through the pine nuts and feta.
When the dough has proved, place on to a lightly floured surface and divide into four equally sized balls. Roll each into a long rectangle, approximately 5" x 10". Spoon a quarter of the filling onto the top half of the rectangle, and brush the edges around the filling with water. Bring up the bottom of the rectangle to create a pocket, and press the edges together to seal.
Fit the sandwich plates and pre-heat on 'High'. When the green indicator light shows, carefully place the stuffed flatbreads in each of the sandwich pockets.
Close the lid and leave to cook or around 8-10 minutes until the flatbread is golden. Repeat with the remaining two flatbreads.
Leave to cool for a few minutes before eating. The flatbreads are also delicious cold.