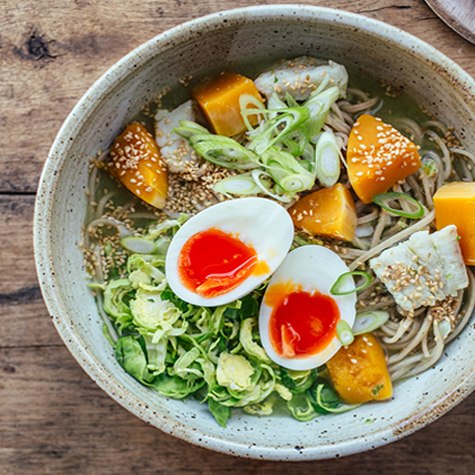 Hake, Brussels Sprout & Squash Ramen
Our soup maker is perfect for this one pot ramen recipe created by Izy Hossack. Using the cooking water to create the broth retains all of the nutrients from the fresh veggies and spices, making this an easy, healthy and yummy mid-week meal.
Check out Izy Hossack's website for more great recipes: http://www.topwithcinnamon.com/
Ingredients:
2 eggs
4 spring onions, roughly chopped
3 cloves garlic
30g ginger, roughly chopped
2 tbsp Miso paste
2 tsp Sesame oil
½ tsp Salt
1 Green chilli
300g Butternut squash, cubed
100g Ramen noodles
200g Skinless, boneless hake fillets (or other white fish)
200g Brussels sprouts, shredded
Garnish
Directions:
Place the spring onions, garlic, ginger, miso, sesame oil, salt and chilli into the Soup Maker with 90ml of water. Blend together on setting 2 until smooth. Pour into a bowl and set aside.
Add 1L of water to the jug. Set the heat to 'HIGH' and the timer to 8 minutes. Once the water is boiling, set the timer to 5 minutes and gently lower in 2 eggs using a spoon. Leave to boil for 5 minutes then remove from the jug using a spoon and transfer to a bowl of cold water. Set aside.
Add the squash to the jug and set the timer to 'SIMMER' for 8 minutes. Add the hake & noodles and cook SIMMER for however long the back of the packet of noodles indicates for cooking time. Use the 'SLOW STIR' function after about a minute of cooking time to stir the noodles through. In the last minute of cooking time, add the shredded Brussels sprouts to the jug and use the 'SLOW STIR' function to stir them in.
Take the boiled eggs and tap them against a countertop to crack the shells. Peel the shells off then slice the soft boiled eggs in half.
Spoon the hot noodles and broth into two bowls, then top with the eggs and sesame seeds.