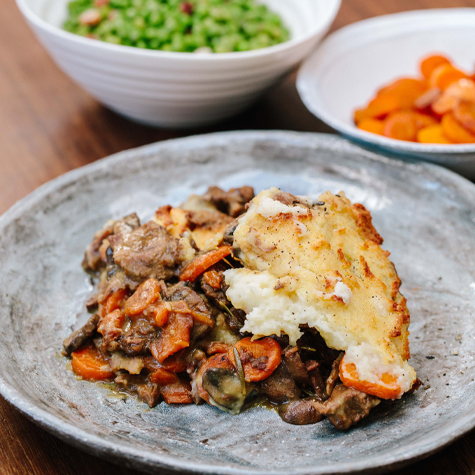 Cottage Pie
Warm the soul with some much loved comfort food. Why not try our twist on this classic cottage pie, a great week day treat or one to please the crowds.
Ingredients:
Filling
400g Braising beef, cut into bite size chunks
1 tbsp Olive oil
1 tbsp Flour
150g Chestnut mushrooms, cleaned
2 Onions, peeled
2 Carrots, peeled
1 Stick celery, washed
2 Cloves garlic, crushed
150ml Water
450ml Beef stock
2 Sprigs rosemary, leaves picked
1 tsp Dijon mustard
Salt & freshly ground black pepper
Mash Potato
1kg Potatoes, peeled and roughly chopped
100ml Semi skimmed milk
30g Butter
Salt and freshly ground black pepper
Directions:
Preheat the oven to 160ºC / gas mark 3.
Using a deep oven proof casserole dish, heat the oil. When the oil is hot add the beef chunks to the pan. Add the flour and stir into the meat. Cook until the flour disappears and the meat is browned.
Set up the food processor with the medium slicing disc fitted, or the adjustable slicing disc on a medium setting. Slice the carrots, onions, celery and mushrooms.
Add the vegetables to the pan along with the crushed garlic and rosemary. Stir to combine all the ingredients.
Add the stock and water, then season to taste. Stir well to combine all the ingredients and place on the lid before putting into the preheated oven for 3 hours. Stir occasionally to make sure that nothing is sticking. Add a little water if the mixture is becoming dry.
While the casserole is cooking make the mash. Add the potatoes to a pan of cold water and bring to the boil. Gently boil for 15-20 minutes, until the potatoes are soft and then drain.
Using the Hand Blender with the masher attachment fitted, process the potatoes with the milk and butter until smooth and season to taste.
Remove the casserole from the oven and transfer to an ovenproof dish.
Increase the oven temperature to 180ºC/gas mark 4.
Cover the meat with the mashed potato and place in the oven for 30 minutes.
The pie is ready when the top is golden brown and the filling is bubbling.
Serve with freshly cooked vegetables.