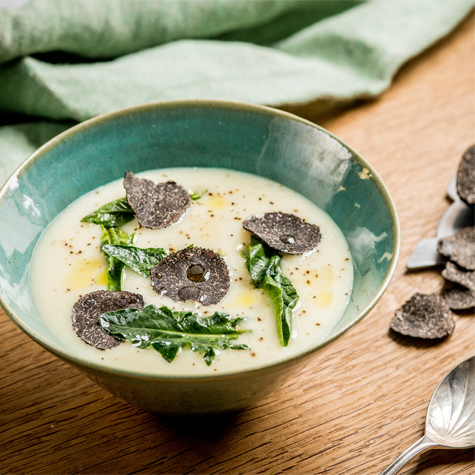 Chilled Leek and Potato Soup with Chive Crème Fraiche
Cook Time:
25 Minutes + 2 Hours Chilling Time
A twist on a classic, this chilled leek and potato soup is a great lunchtime alternative to salad on a summer day and super easy to make in our Cuisinart soup maker plus.
Ingredients:
Soup
500g Maris Piper potatoes
250g Leeks (white)
150ml Milk
150ml Vegetable stock
1 tsp Black truffle oil
1 tsp Lemon juice
Salt and pepper to taste
Chive crème fraiche
250ml Crème fraiche
40ml Chives
1/2 Lemon
Salt and pepper
Garnish
40 leaves Spinach heart
40g Black summer truffles
40ml Black truffle oil
40ml Olive oil
Black peppercorn
Directions:
Soup
Peel and roughly dice the potatoes. Wash and slice the leeks.
Place in the Soup Maker with the milk and vegetable stock.
Set the Soup Maker for 8 mins on High.
When boiling, change the temperature to Simmer and set for 15 mins.
After cooking, blend on setting 2 until completely smooth and chill in the fridge for 2 hours.
Chive crème fraiche
Chop the chives finely, zest and juice the lemon.
Add the chives, lemon juice and zest to the cream.
Season.
Plating
Pour the soup into a bowl.
Place a nice dollop of the crème fraiche in the middle.
Sprinkle crushed pepper on top.
Scatter the spinach shoots and sliced truffles on the top.
Drizzle olive oil and truffle oil.