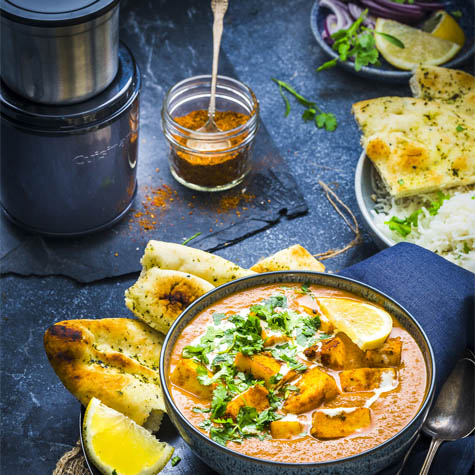 Paneer Tikka Masala
Created by @sandhyaskitchen
Ingredients:
Ingredients for Tikka Masala Spice Powder
1 1/4 tbsp coriander seeds
1 1/4 tbsp cumin seeds
1 tbsp fennel seeds
3/4 tsp black pepper
4 green cardamom
6 dried red chillies
4 cloves
1" cinnamon stick
1/4 tsp turmeric powder
1 tbsp onion powder
1 tsp ginger powder
1 tbsp garlic powder
1/4 tsp nutmeg powder

Ingredients for Paneer Tikka
250g Cubed Paneer
Paneer Tikka Marinade
4 Tbsp Greek Yogurt
1/2 Tsp Chilli Powder
1 Tsp Paprika Powder
1 Tbsp Ginger Garlic Paste
2 Tbsp Tikka Masala Powder
1 Tsp Lemon Juice
Salt & Pepper to taste

Ingredients Tikka Masala Gravy
2 Tsp Oil
2 medium onion roughly chopped
3 cloves garlic
1 inch ginger, chopped
1 can 400g chopped tomato
3 Tbsp Tikka Masala Powder
1/2 Tsp Turmeric
1/2 Tsp Chilli Powder ( optional )
2 Tbsp Kasuri Methi ( Dried Fenugreek Powder )
Salt to taste
1/4 Cup Cream + 1 Tbsp Cream
3/4 Cup Water
2 Tbsp Coriander Leaves
Directions:
Tikka Masala Spice Powder
In a dry frying pan over low heat, place the coriander seeds, cumin seeds, fennel seeds, cloves, cardamom, cinnamon and dried red chillies.
Roast slowly until the spices begin to pop. Allow the spices to cool down and transfer them to the grinding bowl of the Spice Grinder.
Add Turmeric, ground ginger, onion powder, garlic powder and nutmeg powder.
Process spices together in the Spice Grinder until coarsely ground, about 30 seconds.
Use immediately or store them in an airtight jar.

Paneer Tikka Marinade
Whisk all the ingredients for Paneer Tikka marinade until smooth. Stir in Paneer cubes and mix well. Allow the marinade to rest for at least 1 hour or preferably overnight.
Place the marinated paneer tikka on a heated pan and cook until they gently turn golden brown on all sides.
Set them aside.

Tikka Masala Gravy
Place the ginger and garlic together in the grinding bowl of the spice grinder. Process for 10 seconds, until they are finely chopped.
Heat a non stick frying pan over medium heat with oil. When oil is hot, stir in ginger, garlic and Onion. Cook until fragrant for about 2 minutes.
Stir in can of chopped tomatoes and cook until the tomatoes are mushy, about 5 minutes.
Add the tikka masala powder, red chilli powder, turmeric powder and salt and cook for a fur-ther 3-4 minutes.
Add 3/4 cup of water and cook for 2-3 minutes. Switch off the flame. If you like the gravy texture smooth, transfer them to a blender and puree smooth. This step is completely optional.
Place the pureed tikka masala in the pan.
Stir in cream, kasuri methi and the prepared paneer tikka and cook for 1 minute.
Garnish with a drizzle of cream and coriander leaves.
Serve Paneer Tikka Masala with naan bread and rice.