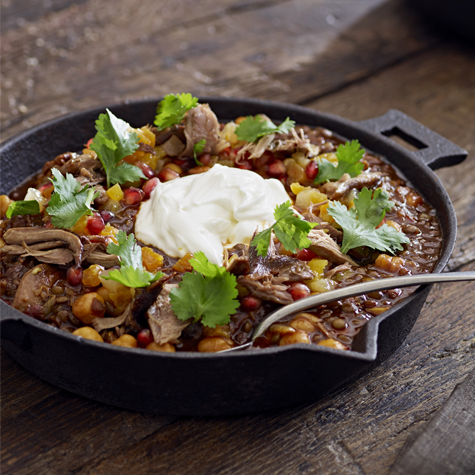 Spicy Chickpea and Lamb Stew
A perfect winter warmer, this spicy chickpea and lamb stew is easy to make and will be a sure-fire favourite.
Ingredients:
300g Shoulder or leg of lamb, diced into small pieces and trimmed of fat
2 tbsp Olive oil
1 Red onion, finely diced
1 Celery stalk, finely diced
1 Clove of garlic, crushed
1 tsp Turmeric
1 tsp Cinnamon
15g Ginger, grated
2 tbsp Tomato paste
200g Tinned chopped tomatoes
500ml Lamb stock
75g Green lentils
400g Tin of chickpeas, drained
Garnish
10g Flat parsley, chopped
10g Coriander, chopped
2 tbsp Pomegranate seeds
½ Mango, diced
6 Dried apricots, chopped
To Serve
Directions:
Set the timer of the Soup Maker Plus for 20 minutes on 'High'. Add the olive oil, red onion, celery, garlic, turmeric, cinnamon and ginger. Stir occasionally.
After 5 minutes add the diced lamb and continue to cook on high, stirring occasionally.
After 5 minutes reduce the temperature setting to sauté and add the tomato paste. Stir occasionally.
With 5 minutes remaining add the chopped tomatoes and lamb stock. Continue to cook on 'Sauté' for the remaining time, continuing to stir occasionally.
Set the timer for 30 minutes on 'High' and add the green lentils.
Once the liquid has began to boil reduce the heat to 'Sauté', stirring occasionally.
With 10 minutes remaining add the chickpeas and continue to cook for the remaining time.
Ensure that the lentils are cooked through. Increase the cooking time if necessary.
Allow the stew to rest for 5 minutes before serving.
Garnish
Combine all the garnish ingredients together and reserve.
To Serve
Pour the stew into a serving bowl, and garnish with the mango and herb mixture, plus a dollop of Greek yoghurt.