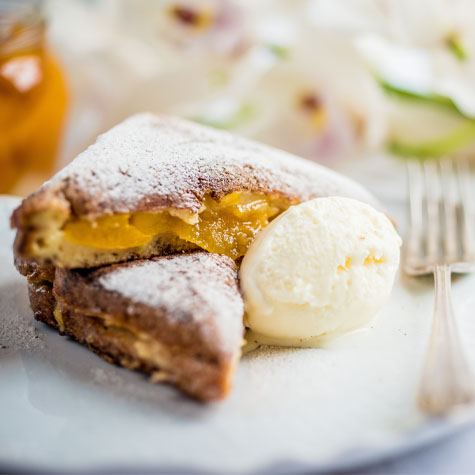 Spiced Apricot French Toastie with Vanilla and Jersey Cream Ice Cream
Why not try something sweet in our Cuisinart Toasted Sandwich makers? This spiced apricot French toastie recipe is the ultimate comfort food, best served with vanilla and jersey cream ice cream.
Ingredients:
Poached Apricots
12 Apricots
250g Caster sugar
250ml Water
Pastry Cream
250ml Milk
35g Caster sugar
2 Egg yolks
20g Plain flour
1/2 Vanilla pod, grated
Toastie
6 Whole eggs
80g Caster sugar
8 Brioche slices
60ml Apricot jam
Pain Perdu Spices
125g Caster sugar
25g Ground cinnamon
20g Ground cardamon
5g Ground nutmeg
Jersey cream ice cream
150ml Jersey cream
1/2 Vanilla pod
250ml Milk
4 Egg yolks
40g Caster sugar
Directions:
Poached Apricots
Blanch the apricots in boiling water for 20 seconds. Refresh in ice water. Peel then and cut them in half.
Boil the water and sugar together. Place the apricot into the stock syrup and simmer for 4 mins and leave it to cool at room temperature. Pastry Cream 1.Boil the milk and the grated vanilla pod together in a pan. 2.Mix the sugar with the egg yolks then the flour and beat until smooth.
Pour the hot milk over the egg and sugar mix. Stir well to dissolve the egg mixture with the milk.
Replace in a pan over a high heat and stir with a whisk until it starts boiling. Reduce the heat and stir for another 30 seconds. Pour in a bowl and chill in a fridge for 1 hour. Pain Perdu Spices 1.Mix all the ingredients together.
Jersey Cream Ice Cream
Boil the milk and the vanilla pod together in a pan.
Mix the sugar and eggs together.
Pour the hot milk over the egg mixture. Stir well until completely smooth.
Replace into the pan over low heat and stir continuously until the custard thickens. Do not boil.
Pour the custard over the jersey cream and mix together until smooth.
Churn the warm mix for 50 min in the Ice Cream & Gelato Professional. Store in the freezer
Toastie
Fit the sandwich plates and preheat on high.
Beat the eggs and sugar together.
Dip four slices of brioche into the egg mixture and make sure it only covers one side. Place on a chopping board or a plate as it can be quite messy.
Spread pastry cream on the clean side of the remaining four brioche to 1 cm off the edge, then place a teaspoon of jam in the middle and 3 apricot halves. Cover with the other slices.
Sprinkle each toastie with the spiced sugar and place two onto the heated plates.
Cook for 8 min until the brioche crisps up. Place to cool down on a wire rack for a couple of minutes.
Repeat the process with remaining two.
Cut the sandwiches diagonally and place them on the plate.
Scoop the ice cream.