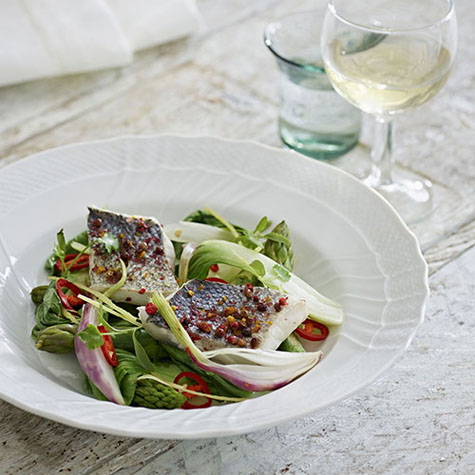 Spice Rubbed Sea Bass with Vegetables
Ingredients:
2 Sea Bass fillets
1 Stick lemon grass, cut into 3 pieces and crushed
Spiced Rub
2 tsp Pink peppercorns, ground
1 tsp Sichuan pepper, ground
½ tsp Coriander, ground
2cm Piece ginger, finely chopped
½ a Chilli, finely chopped
1 tsp Fleur de sel (good quality sea salt flakes), crushed
Vegetables
2 Small pak choi, separated into individual stems
8 Small asparagus spears, woody ends removed
50g Mangetout, trimmed
50g Sugar snap peas, trimmed
2 Red spring onions, trimmed & sliced into quarters lengthways
Coconut Emulsion
160ml Coconut milk
Juice of 2 limes
1 tbsp Malibu (optional)
½ tsp Palm sugar
Sea salt, to taste
To Serve
2 tbsp Coriander, chopped
Directions:
In a small bowl mix all the spiced rub ingredients together. Generously rub over the sea bass fillets and set aside.
In one end of the steaming tray place the crushed lemon grass. Place the spice rubbed sea bass on top of the lemon grass.
At the other end of the steaming tray layer the vegetables beside the sea bass fillets.
Set the timer for 5 minutes and press start.
Coconut Emulsion
In a suitable bowl mix all the coconut emulsion ingredients and season to taste.
To Serve
Arrange the steamed vegetables between 2 deep plates.
Generously dress with the coconut emulsion.
Place the sea bass fillets on top of each serving (discarding the lemon grass).
Sprinkle with the chopped coriander.