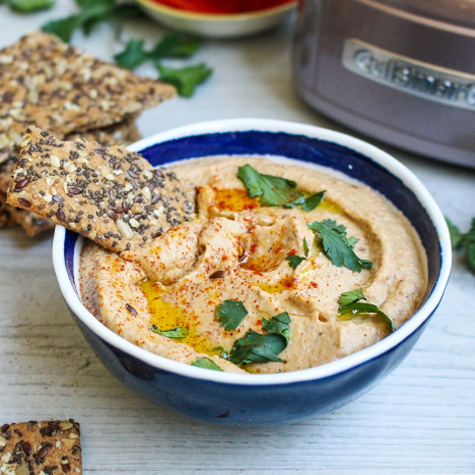 Smoky Aubergine Baba Ganoush
Recipe created by Nourishing Amy - Check out her website for more great recipes: www.nourishingamy.com
Ingredients:
1 Large aubergine
3 tbsp Tahini
2 tbsp Lemon juice
1 tbsp Olive oil plus extra for drizzling
1 Garlic clove, peeled
1/2 tsp Smoked paprika
Salt and black pepper
Fresh coriander and crackers
Directions:
Preheat an oven to 180°C Fan / 200°C and cut the aubergine in half lengthways. Place cut side down on a baking tray and roast for about 30 minutes until tender. Allow to rest until cool enough to handle.
Remove the skin from the aubergine and add the flesh to the Mini Prep Pro and add the tahini, lemon juice, olive oil, garlic, smoked paprika and season with salt and pepper. Blend until smooth and creamy, scraping down the sides as necessary and adjust the taste with extra paprika for heat, lemon juice for tang and salt and pepper for seasoning.
Chill for 1 hour or so and then pour into a small bowl, drizzle with extra olive oil, sprinkle with chopped coriander and serve with crackers.