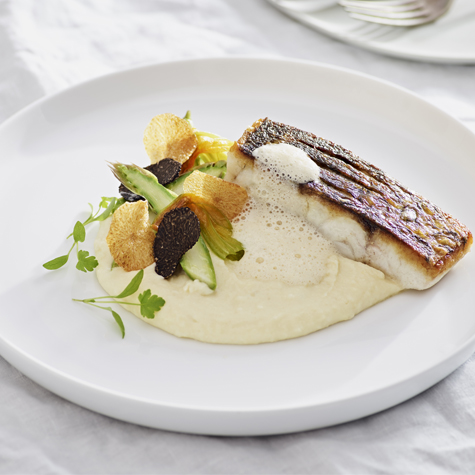 Roasted White Fish with Potato Mousseline
Ingredients:
2 Fillets of firm white fish (approximately 200g each)
1 tbsp Olive oil
White Wine Emulsion
1 Shallot, peeled & diced
1 Sprig of thyme
1 tbsp Olive oil
125ml White wine
250ml Fish stock
125ml Double cream
100ml Full fat milk
Garlic Potato Puree
350g Starchy potatoes, peeled and diced
200ml Double cream
25g Butter
2 Cloves of garlic, peeled
Potato Crisps
1 Small potato, peeled & finely sliced
(Use the fine slicing disc on the Easy or Expert Prep Pro for best results)
Frying oil
To Serve
4 Asparagus spears, blanched & halved lengthways
8g Black truffle, finely sliced
Parsley cress or small parsley leaves
Directions:
White Wine Emulsion
In a suitable pan gently pour in the olive oil & sauté the shallots & thyme.
Add the wine to the pan and simmer to reduce by half.
Once the wine has reduced add the stock and reduce by a half.
Finely add the cream and reduce again by half.
Pass through a sieve and reserve the liquid.
When ready to serve, bring to the boil and then add the cold milk.
Using the blending shaft, emulsify. This is done by allowing the blade to whisk just on the surface of the liquid, allowing bubbles to form on top.
Garlic Potato Puree
Gently boil the potatoes for 15-20 minutes until soft and drain.
Place the garlic in a pan of water and bring to the boil. Drain and repeat once more.
Add the boiled garlic to the cream and bring to a simmer.
Add the garlic and cream to the drained potatoes. Using the potato masher, process until smooth.
Potato Crisps
Rinse the potatoes several times in clean water to wash away the starch and dry off.
Heat a deep pan with oil until the oil is 170ºC (use a thermometer to test).
In batches, fry the potato slices until golden & crisp (approximately 1-2 minutes).
Lightly salt and allow to drain on a paper towel.
Fish
Preheat the oven to 180ºC.
Pour the olive oil into a suitable pan and fry the fish fillets skin side down until the skin becomes crispy.
Bake in the oven for a further 6 minutes.
To Serve
Spoon the garlic potato puree onto each plate, followed by placing a roasted fish fillet on top.
Scatter the potato crisps over the potato puree.
Garnish with the asparagus, sliced truffle and parsley cress.
Spoon over the white wine emulsion and serve.