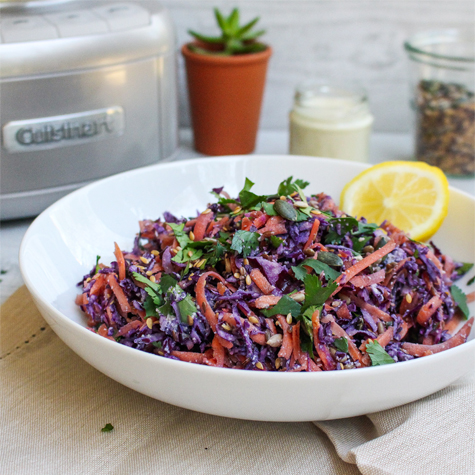 Raw Cabbage and Carrot Slaw with Creamy Cashew-Garlic Dressing
Recipe created by Nourishing Amy - Check out her website for more great recipes: www.nourishingamy.com
Ingredients:
2 Carrots
1/2 Red cabbage
50g Cashew nuts
50ml Olive oil
1 tbsp Tahini
1 tbsp Lemon juice
1 Small garlic clove
Salt and black pepper
50ml Water
2 tbsp Mixed seeds
2 tbsp Chopped coriander
Directions:
Soak the cashews in filtered water for 8 hours or overnight in a covered bowl or container. Drain and rinse with cool water.
Place the cashews in the small bowl of the Easy Prep Processor along with the olive oil, tahini, lemon juice, garlic and salt and pepper. Whizz until smooth and add the water slowly until creamy and pourable. Taste and adjust the seasoning with salt and black pepper.
In the large bowl of the Easy Prep Processor, grate the carrot and the red cabbage and place in a large mixing bowl.
Pour the creamy cashew garlic dressing over the slaw and stir well to combine. Add in the chopped coriander and mixed seeds.
Serve scattered with extra seeds and chopped coriander, if desired.