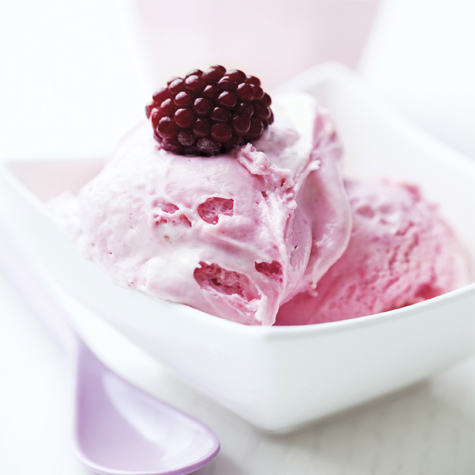 Raspberry Gelato
Cook Time:
40 - 45 Minutes
Ingredients:
600g Red raspberries, thawed, puréed and strained
170g Granulated sugar
200ml Semi skimmed milk
200ml Double cream
4 Large egg yolks
40g Fat free Powdered milk
1 1/2 tsp Vanilla extract
1-2 Drops red food colouring, optional to enhance colour
Directions:
Place the sugar, cream and semi skimmed milk into a medium saucepan, bring to a simmer over a medium heat and stir to dissolve the sugar. Keep warm over a low heat.
Place the egg yolks in a medium bowl and whisk until thickened, for approximately 2 minutes.
Whilst whisking the eggs, add half the hot sugar, milk and cream mixture and whisk until blended. Then stir into the saucepan with the rest of the sugar, cream and milk and increase heat to medium.
Stir the mixture constantly with a wooden spoon, until the mixture is thickened like a custard sauce.
Stir in the powdered milk and remove from heat. Strain the mixture into a bowl through a fine mesh strainer.
Add the reserved raspberry puree, vanilla extract and optional food colouring to the mixture and stir thoroughly. Cover and chill for at least 2 hours.
Pour the chilled mixture into the Ice Cream & Gelato Professional with the gelato paddle attached and set the timer to 40-45 minutes for soft gelato and 50-60 minutes for harder gelato.
Store in the freezer.