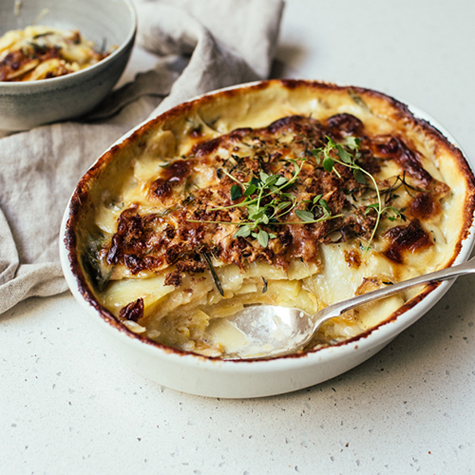 Potato Gratin
Recipe created by Izy Hossack - Check out her website for more great recipes: http://www.topwithcinnamon.com/
Ingredients:
500g Waxy potatoes (e.g. charlotte)
1 Medium swede
80g Gruyere cheese
3 tbsp Olive oil
1 Large white onion, halved and peeled
3 Cloves garlic
3 tbsp Plain white flour
150ml Double cream
500ml Vegetable stock
2 Sprigs fresh rosemary, leaves picked, stems discarded
3 Sprigs fresh thyme, leaves picked, stems discarded
Salt
Black pepper
1 Slice of bread
Directions:
Peel the swede to remove the tough outer layer. Cut the swede and any large potatoes into large chunks which are small enough to comfortably fit into the feed tube of the food processor.
Fit the medium slicing disc to the large bowl of the food processor and attach the work bowl cover. Feed the potatoes and swede into the food processor via the feed tube whilst the food processor is on 'LOW'.
Lay the sliced swede and potato into a medium baking dish.
Rinse the food processor bowl and place back onto the base. Flip the slicing disc over to the grating side. Fit the lid of the food processor and place the Gruyere cheese into the feed tube. Turn the food processor onto 'LOW' to grate the cheese. Tip the cheese into a bowl and set aside for later.
Remove the grating disc from the food processor and fit the large chopping blade. Add the onion, fit the cover and pulse until finely chopped.
Preheat the oven to 180°C.
In a medium pot, cook the onion in the oil over a medium heat, stirring until soft – about 5-7 minutes. Add the garlic and cook for one minute. Stir in the flour and then stir in the stock. Stir in the cream, fresh rosemary and thyme. Leave to simmer on a medium-low heat for 5 minutes. Season with salt and pepper, to taste.
Pour the cream mixture over the vegetables in the baking dish. Sprinkle over the grated Gruyere cheese.
Pulse the bread in the food processor until broken down into breadcrumbs and sprinkle that over the top too. Bake for 1 hour until well browed and bubbling. Serve hot.