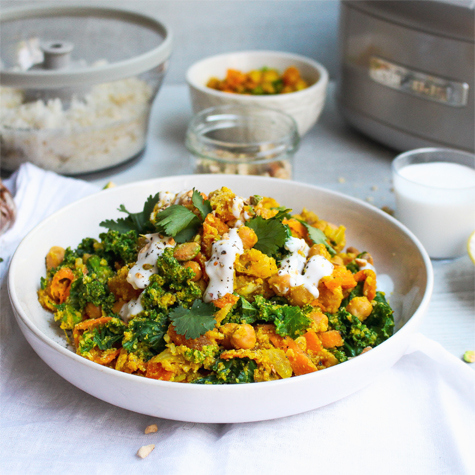 Moroccan Spiced Cauliflower Rice
Recipe created by Nourishing Amy - Check out her website for more great recipes: www.nourishingamy.com
Ingredients:
350g Cauliflower (florets and stem)
2 tbsp Coconut oil
1 White onion, small dice
2 Garlic cloves, crushed
1cm Piece fresh ginger, peeled and finely chopped (or ½ tsp ground ginger)
1 tsp Turmeric
½ tsp Each: ground cumin, cumin seeds, ground coriander, cinnamon
1 Tin chickpeas, drained and rinsed - 100g dried apricots, cut in ½
1 Large carrot, peeled into ribbons
2 Handfuls spinach or kale, chopped
2 tbsp Each: lime juice, water
1 tbsp Each: maple syrup, tamari soy sauce
Salt and black pepper
To Serve
2 tbsp Coconut yoghurt
4 Sprigs fresh coriander, chopped
2 tbsp Mixed nuts or dukkah
Directions:
Chop the cauliflower into small chunks and place in the small bowl of the Easy Prep Processor and pulse into the cauliflower is in fine crumbs or rice. You may need to work in batches or use the large bowl. Place to one side.
Heat the coconut oil in a large frying pan and sauté the onion for about 10 minutes until soft. Add the garlic, ginger and all the spices and continue to fry for a couple of minutes until smelling fragrant.
Pour the cauliflower rice into the saucepan with the chickpeas, dried apricots, carrot ribbons and spinach or kale. Stir in the lime juice, water, maple syrup and tamari, season to taste with salt and lots of black pepper and stir well. Place a lid on the pan and allow to steam cook for about 5 minutes.
To serve, divide the Moroccan Spiced Cauliflower between two bowls, top with the coconut yoghurt, fresh coriander and mixed nuts or dukkah.