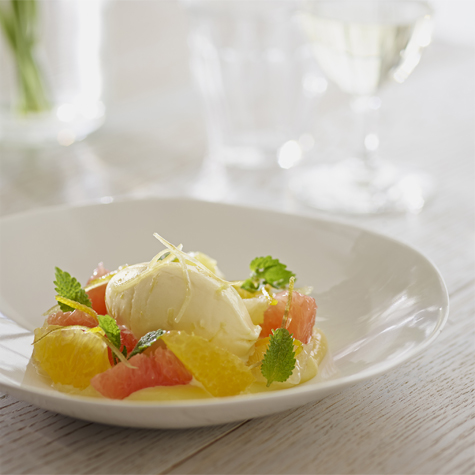 Lemon Ice Cream with Citrus Fruits and Lemon Zests
Created by Cellar Society
Ingredients:
Lemon Ice Cream
750ml Full fat Milk
1 Vanilla pod, cut in half lengthways
12 Egg yolks
175g Caster sugar
Juice & zest of 2 lemons
Lemon Curd
4 Egg yolks
100g Caster sugar
2 Medium unwaxed lemons, zest and juice
80g Unsalted butter, cubed
Garnish
1 Orange
1 Pink grapefruit
1 Ruby red grapefruit
15g Confit lemon zests
12 tips of Lemon balm
Directions:
Lemon Ice Cream
Bring the milk and the vanilla pod to a gentle simmer together in a pan.
Mix the sugar and eggs together.
Juice and zest the lemons.
Remove the vanilla pod from the heated milk, scraping the vanilla seeds back into the milk. Pour the milk over the egg mixture, stirring well until completely smooth.
Place the milk & egg custard mixture into a clean pan over a low heat and stir continuously until the custard thickens. Do not boil.
Transfer the custard into a bowl, stir in the lemon juice and zest. Allow to chill in the fridge for at least 2 hrs.
Once chilled, briefly whisk the mixture again. Churn the chilled mixture for 50 min in the ice cream machine.
Freeze until ready to use.
Lemon Curd
Put the lemon zest and juice, sugar and butter into a heatproof bowl set over a pan of simmering water. Make sure the water is not touching the bottom of the bowl. Stir with a whisk from time to time until the butter has melted.
Lightly whisk the egg yolks with a fork and stir them into the lemon mixture. Let the curd cook, stirring regularly, for about 10 minutes, until it is thick and custard like.
Remove from the heat and stir occasionally as it cools. Place a piece of waxed paper over the lemon curd (this will prevent a skin forming) and then transfer to the fridge to chill.
Plating
Peel the citrus fruits and cut the segments with a sharp knife.
Spread the lemon curd on the bottom of the plate.
Place a quenelle of ice cream on top of the curd.
Surround the ice cream with segments, place zests on top of the ice cream and some lemon balm.