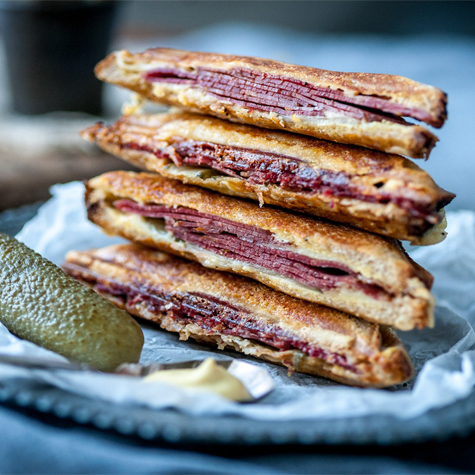 Hot Reuben Sandwich
Taking just minutes to make on our sandwich maker, this American classic is a delicious and easy lunch or week night supper.
Ingredients:
4 Slices rye bread with caraway seeds
20ml Dijon mustard
40g Gruyère cheese
70g Salt beef, sliced
50g Sauerkraut, well drained
30g Gherkins, sliced
Directions:
Pre-heat sandwich plates on 'High'.
Generously butter 4 slices of bread on both sides.
Lay the 4 slices of bread on a work surface and spread 3 tsps of Dijon Mustard on each slice, top with one slice of Gruyère cheese.
Distribute enough salt beef to your liking on 2 slices and cover the beef with sauerkraut.
Place two slices of gherkin on top of the sauerkraut then add the remaining 2 slices of bread to finish the sandwich.
Once the green indicator light shows, place both sandwiches on the heated plates and close the lid until the handle locks. Cook for 5 minutes until golden brown.