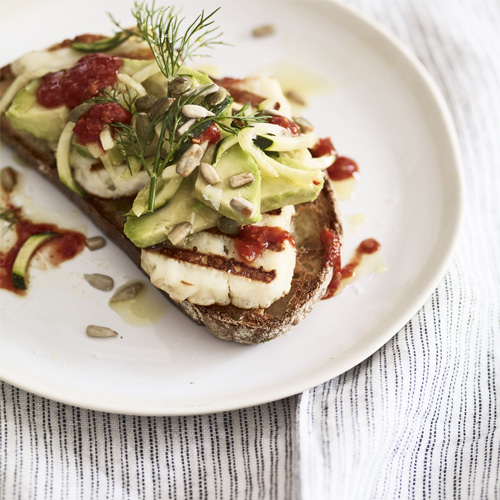 Grilled Halloumi on Sourdough
This grilled halloumi and avocado on sourdough is the perfect solution to a weekend brunch or as a mid-week lunch. From ingredients to plate this delicious dish is cooked in minutes thanks to the Cuisinart Grills and Expert Prep Pro.
Ingredients:
4 Slices of sourdough bread
1 tbsp Olive oil for drizzling over the bread
225g Halloumi, thickly sliced
1 ripe Avocado, sliced
½ Medium courgette
To Serve
1 tbsp Sunflower seeds
1 tbsp Pumpkin seeds
Small bunch of dill
Directions:
Heat the 2 in 1 Grill & Sandwich Maker or the Griddle & Grill on high with the grill plates fitted.
Place the slices of halloumi on the grill and lower the lid to cook on both sides until golden brown.
Drizzle the sourdough with olive oil. Remove the cooked halloumi from the grill and add the sourdough slices. Lower the lid to cook on both sides until golden brown.
Meanwhile, spiralize the courgette using the spiralizing attachment on the Expert Prep Pro.
To Serve
Place pieces of halloumi onto the toasted sourdough. Follow with a layer of avocado. Top with the spiralized courgette, seeds and dill.