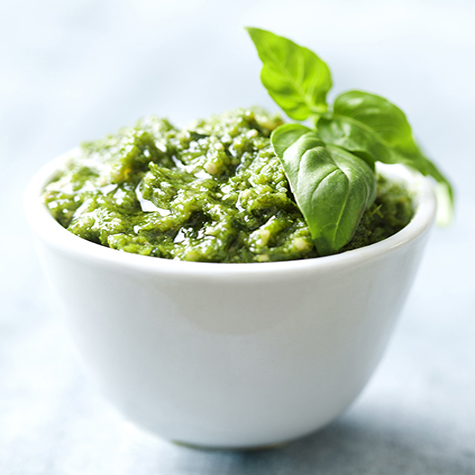 Green Pesto
Prep. Time:
Under 10 minutes
Whizz up this versitile sauce in less than 10 minutes. Use it as an easy pasta sauce, spread onto white fish before you bake, or even add it to your bread dough!
Ingredients:
50g of well packed Basil Leaves
230ml of Extra Virgin Olive Oil
30g Pine Nuts
2 Cloves of Garlic Crushed
Sea Salt (pinch)
60g Parmesan Cheese
Directions:
Set up the fine grating/shredding disc in the large work bowl and grate the parmesan on 'HIGH'.
Remove the parmesan and grating disc from the bowl.
Set up the small work bowl with the small chopping/mixing blade.
Place all the ingredients except for the grated parmesan into the small bowl and process on 'HIGH' until well combined.
Add the parmesan and pulse a few times until it is roughly mixed through. Leave a little texture from the parmesan.
Store in a sealed container and place in the fridge. Consume within 3 to 4 days.