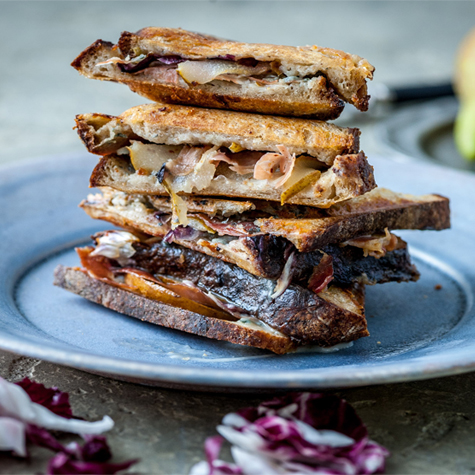 Gorgonzola, Prosciutto, Pear and Radicchio Toast
Ingredients:
4 Slices of sourdough bread
Extra virgin olive oil
40g Gorgonzola, torn into chunks
1 Pear, cored and finely sliced
2 Slices of prosciutto
4 Leaves of radicchio, finely sliced
Freshly ground black pepper
Directions:
Fit the sandwich plates and pre-heat on 'High'.
Pour some olive oil onto a plate and place one side of each slice of sourdough into the oil to coat.
Place two slices of sourdough bread, olive oil side down onto a work surface and layer the slices with the gorgonzola, pear slices, prosciutto and radicchio, season to taste.
Top with the remaining slices of sourdough bread, olive oil side facing up.
Once the green indicator light shows, place each sandwich onto the heated plates and close the lid.
Turn the heat to Medium and toast for 5 minutes or until golden brown.
Cut sandwiches along the perforated edge and serve.