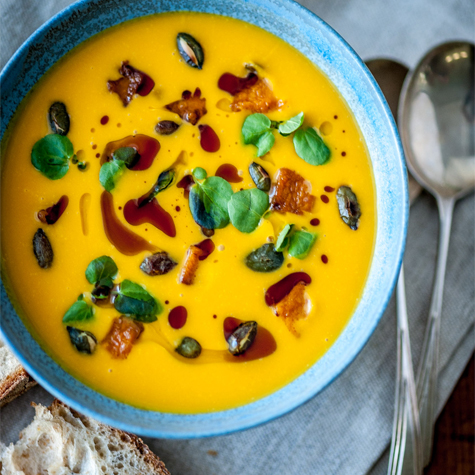 Ginger & Butternut Squash Soup
Ingredients:
1 Medium butternut squash, peeled, cored and diced
10g Ginger, peeled and sliced
1 Red onion, peeled and cut in quarters
1 Garlic clove
1 Bird eye chilli
1 Litre vegetable stock
130ml Olive oil
80ml Pumpkin oil
50g Pumpkin seeds, toasted
1 Bunch baby watercress
Directions:
Set the timer on the Soup Maker for 20 minutes and the heat setting to 'SIMMER'.
Pour in 50 ml olive oil and heat for around 1 minute.
Add the onion, ginger, chilli and garlic, attach the lid and increase the heat to 'SAUTE' for 2 minutes. Stir frequently.
Add the vegetable stock and increase the heat to 'HIGH', cooking for 2 minutes. Remove the lid, add the butternut squash and leave to cook for 15 minutes. Stir occasionally.
Season with salt and pepper and blend on setting 2 for approx. 2 minutes or until you have reached your desired consistency.
Serve into 4 bowls and drizzle each with the olive and pumpkin oil then top with pumpkin seeds and watercress.