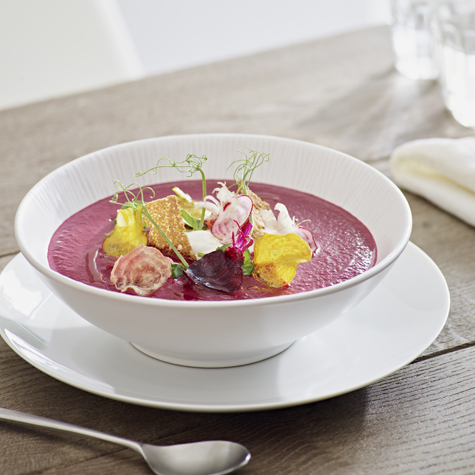 Gazpacho of Beetroot Soup with Goats Curd
Ingredients:
1 Small potato (120g)
1 tbsp Olive oil
1 Red onion
1 Clove garlic
1kg Raw beetroot, peeled and diced
250ml Vegetable stock
25 ml Blood orange juice
1/4 tsp Hot horseradish sauce
75ml Tomato passata
75ml Double cream
300ml Beetroot juice
Salt and pepper
To Garnish
2 Baby dark beetroots, peeled & washed
125g Fresh goat's curd
1 Blood orange, segmented
40g Beetroot crisps
12 Pea shoot tendrils
Directions:
Place the potato in a preheated oven and bake at 200ºC / 190ºC Fan / Gas Mark 6 or until soft. Once the potato has baked, remove the skin and discard. Reserve the potato flesh.
In a large pan add the olive oil, diced onion and crushed garlic. Sauté until soft.
Stir in the diced beetroot to the softened onions and garlic. Continue to sauté a little.
Pour in the vegetable stock, orange juice, horseradish and crush the potato into the pan. Simmer until the beetroot is soft.
Add the tomato passata, double cream and continue to simmer for another 2 minutes.
Add the beetroot juice.
Using the blending shaft, blend the soup until smooth.
Pass through a fine sieve if necessary.
If the soup is too thick add a little extra beetroot juice to thin down.
Chill in the fridge for 2 hours.
To Garnish
Slice the baby beetroot lengthways using the finest slicing disc on the Easy or Expert Prep Pro.
Peel the orange removing all the pith. Cut into segments and reserve in their juice.
Pour the chilled soup into bowls.
Spoon on some of the goats curd.
Arrange the finely sliced beetroot, orange segments and beetroot crisps on top of the soup. Scatter with pea shoots.