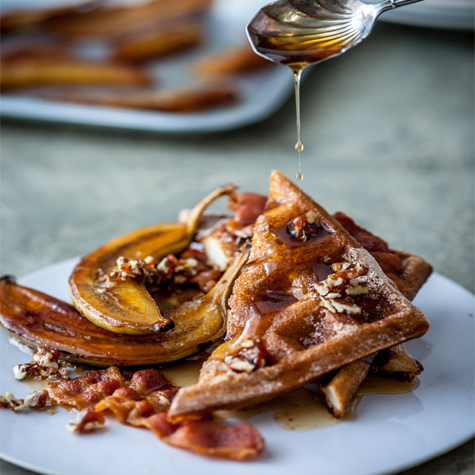 Cinnamon Waffles with Vanilla Yoghurt and Nanica Banana
Ingredients:
Waffles
250g plain flour
9g baking powder
2tsp ground cinnamon
5g salt
400ml whole milk
3 eggs
30ml vegetable oil
Vanilla Greek Yoghurt
200ml greek yoghurt
1 vanilla pod
20g caster sugar
Toppings
8 rashers streaky bacon - pan fried
4 nanica bananas
50g butter
50g caster sugar
50g pecan nuts, toasted
Maple syrup to taste
Directions:
Waffles
Place all the dry ingredients into the bowl of a food processor. Pulse adding the eggs one by one.
Add the milk and oil and pulse again until combined then place the mixture in the fridge for 10 minutes before use.
Turn the Waffle Maker on, once the green indicator light turns on place a ladle of the batter into the centre of each grid.
Close the lid and lock then leave to cook for 6-8 minutes until golden brown.
Vanilla Yoghurt
Cut the vanilla pod lengthways and take the seeds out then place into a bowl. Add the sugar and leave to infuse for 2 minutes. Whisk the vanilla sugar into the Greek yoghurt.
Toppings
Whilst the waffles are cooking place the butter into a frying pan over a high heat until the butter has melted.
Reduce the heat and add the sugar. When the sugar starts caramelising place your bananas (peeled and cut lengthways) on top and cook for approx 1 minute.
When the bananas have a nice golden brown colour turn over and cook on the other side for another 15 seconds.
Serve the cinnamon waffles and top with the banana, cooked bacon, vanilla yoghurt, toasted pecans and maple syrup.