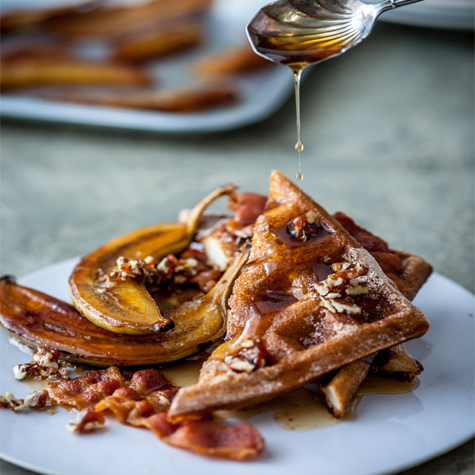 Cinnamon Waffles with Caramelised Bananas
Servings:
6 (Makes 12 Waffles)
Cinnamon Waffles are an indulgent, homemade sweet treat. Easy to make and ready in as little as 20 minutes, they are perfect for either breakfast or brunch.
Ingredients:
For the Waffles:
250g plain flour
1 tbsp. caster sugar
2 tsp. ground cinnamon
1 tbsp. baking powder
1 tsp. salt
400ml semi skimmed milk
3 medium eggs
30ml vegetable oil
For the Caramelised Bananas:
6 bananas, peeled & cut lengthwise
60g butter
60g caster sugar
12 streaky bacon rashers
To Serve:
200g vanilla yoghurt
60g pecan nuts, toasted & roughly chopped
90ml maple syrup
Directions:
Insert the waffle plates and preheat the Waffle & Pancake Maker to medium.
Place all the waffle ingredients into a mixing bowl and mix until you have a smooth batter. Leave to rest for 5 minutes.
When the green indicator light shows, pour approximately 60ml batter into each waffle plate.
Close the lid and cood for approximately 3 - 3½ minutes.
Remove the waffles and repeat with the remaining batter.
Whilst the waffles are cooking, place the butter into a frying pan, over a high heat, until the butter has melted.
Reduce the heat and add the sugar. When the sugar starts caramelising, place your bananas on top and cook for approximately 1 minute.
When the bananas have a lovely golden colour, turn over and cook on the other side for up to 15 seconds. Set aside.
Pan fry the streaky bacon, until crispy and golden.
Serve the cinnamon waffles and top with the caramelised bananas, cooked bacon, vanilla yoghurt, toasted pecans and maple syrup.