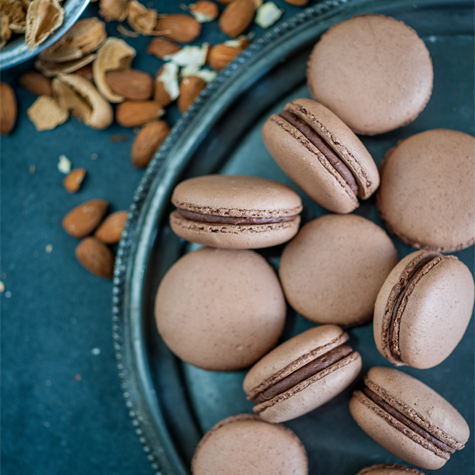 Ingredients:
Macarons
125g Almonds
100g Icing sugar
25g Cocoa powder
90g Egg white
125g Caster sugar
2 tbsp Water

Pistachio Buttercream
50g Icing sugar
50g Pistachio
75g Butter, cubed

Chocolate and Chestnut Ganache
75g Dark chocolate
75ml Double cream
75g Chestnut puree
Directions:
Macarons
Place the almonds in the Spice & Nut Grinder and grind to a fine powder.
Sieve the ground almonds, icing sugar and cocoa powder into a large bowl. Add 45g of the egg whites and mix well to create a paste.
Place the remaining egg whites into a bowl.
Add the sugar and water into a small saucepan then heat over a medium heat until the sugar has dissolved, once dissolved bring to the boil. With a sugar thermometer check the temperature, when the syrup reaches 114ºC, start whisking the egg whites. Check the sugar mixture again, when 120ºC, take the sugar off the heat and pour into the egg whites. Whisk until completely cold.
Carefully fold the meringue mixture into the almond paste, a third at a time until you have a nice glossy mixture.
Line two baking sheets with baking paper, place the macaron mixture into a piping bag with a 1cm round nozzle and pipe small 3cm circles, allowing space between each macaron.
Leave uncovered for around an hour until the macarons form a skin.
Pre-heat the oven to 160ºC and bake macarons for around 12 minutes until set. Leave to cool.
To finish, spoon or pipe some ganache or buttercream on one of the macarons then top with another macaron, repeat on rest of the macarons. Chill in the fridge for 2 hours.

Pistachio Buttercream
Place the pistachios in the Spice & Nut Grinder and grind to a fine powder.
Place 30g of the ground pistachio and icing sugar in a small food processor and blitz to combine.
Add the butter and blitz again until whipped and creamy.

Chocolate & Chestnut Ganache
Break the chocolate into chunks and place in a heatproof bowl.
Heat the cream to boiling point and pour over the chocolate, stirring until the mixture is glossy. Leave to cool.
Stir through the chestnut puree.