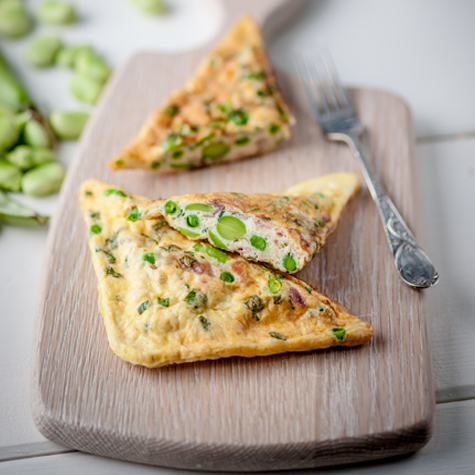 Broad Bean, Pea and Prosciutto Frittata
Perfect for lunchboxes or picnics, these frittatas are packed full of flavour and are incredible easy to make with our Cuisinart sandwich makers.
Ingredients:
80g Fresh broad bean pods
60g Fresh peas
2 Slices of prosciutto, finely sliced
Handful of fresh mint
4 Eggs
15g Parmesan, finely grated
Directions:
Cook the broad beans and peas for approximately 4-6 minutes then plunge into cold water to preserve the colour.
In a bowl, stir together the peas, broad beans, prosciutto and mint.
Lightly whisk the eggs in a separate bowl and pour over the vegetable & prosciutto mix. Grate over the parmesan and mix until combined. Season well.
Fit the sandwich plates and set the temperature to 'HIGH'. When the green indicator light shows, lightly spritz the plates with olive oil. Carefully pour the frittata mix into the lower plate.
Close the lid and leave to cook for around 8 minutes. Serve when firm and golden brown.