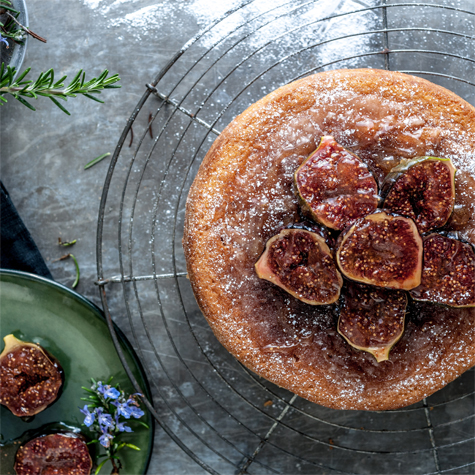 Almond & Rosemary Cake with Honeyed Figs
Ingredients:
Almond Cake
200g Unsalted butter
200g Caster sugar
4 Eggs
90g Ground almonds
90g Self raising flour
1 tsp Baking powder
Few Drops of almond extract

Rosemary Syrup
60g Sugar
60ml Water
3 Sprigs of rosemary

Honeyed Figs
4-6 Figs, cut in half
3 tbsp Manuka honey
Icing sugar to decorate
Directions:
Pre-heat the oven to 230ºC and line the base and sides of a 20cm cake tin.
Place the butter and sugar in the large bowl of the food processor and blitz until creamy.
Add the eggs through the feed tube one by one, blitzing between each addition.
Add the almonds, flour, baking powder and almond extract and blitz until all of the ingredients are well combined.
Pour the cake mixture into the cake tin and smooth the batter until level.
Bake in the oven for 25-30 minutes until the cake is golden brown on top and a skewer comes out clean.
Whilst the cake is baking, make the rosemary syrup by heating the sugar and water in a small saucepan. Bring to the boil and simmer until the sugar turns to syrup.
Remove from the heat and add the rosemary sprigs. Set aside to infuse.
Once cake is removed from the oven, prick with a skewer all over and pour over the rosemary syrup. Leave to cool in the tin.
For the honeyed figs place the honey in a frying pan and heat until bubbling.
Place the figs cut side down in the pan and cook for around 5 minutes until caramelised, spooning the honey over the back of the figs as they cook. Leave to cool.
To serve, place the cake on a stand and top with the honeyed figs. Dust with a sprinkle of icing sugar.