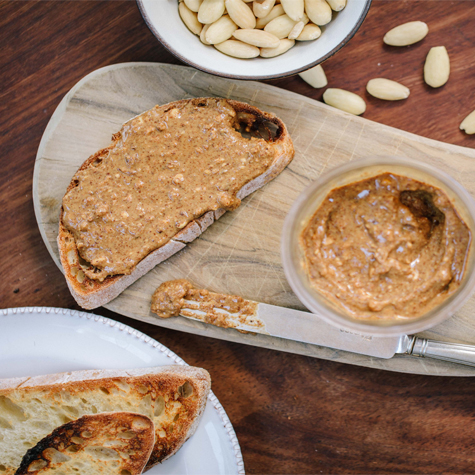 Almond Butter
Servings:
Makes: 200g approx.
This simple and easy to make almond butter is ideal for a healthy breakfast or for snacking. Try spreading on toast, filling pancakes or adding to sauces.
Ingredients:
200g raw almonds
Pinch sea salt (optional)
Directions:
Preheat the oven to 200ºC / Fan 180ºC / Gas mark 6.
Roast the almonds for about 10 minutes and then allow to cool for several minutes.
Place the almonds in the Mini Prep Pro and secure the lid.
Process by continuously holding down the chop button for one minute. The nuts will start to form a breadcrumb like texture. Remove the lid and scrape down the sides.
Add the salt and continue to process, using the grind button, until the nuts are smooth and creamy. You may need to scrape the sides down several times.
Store in an airtight container in the fridge.